Our Mission
The firm of RICHARD C. SUTTER & ASSOCIATES, INC. (RCS&A) was founded in 1974 to offer professional planning services of the highest standards in the fields of comprehensive community planning, plan implementation, economic development, historic preservation, environmental research, site planning, and management consultation."
-Richard C. Sutter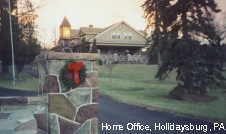 Over the past 27 years, RCS&A has provided these services to communities throughout Pennsylvania and Maryland, both public and private clients, via a core of highly trained professional personnel -- including certified planners, community planners, historic preservation specialists, architects, landscape architects, economic development specialists, and grants coordinators. A pervasive "team" concept has been used to coordinate these specialists and complete complex projects in a truly multi-disciplinary manner.
It is the intention of the firm's principal to insure that the stability and continuity demonstrated by the firm's past history and past performance will continue into the future. The same management has been with the firm since its founding in 1974.