Current Employment Opportunities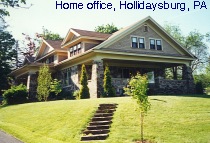 Currently, RCS&A, Inc. has career opportunities available in the following areas:
1. Planning Technician/Intern - student in landscape architecture, planning or geography undergrad or graduate level. Summer and school year part-time work available. $10 per hour depending upon education level and knowledge. Two positions : One in Pittsburgh and one in Hollidayburg PA.
2. Senior Community Planner - Minimum of 5 years experience with masters degree in planning or closely related field. Minimum of 7 years experience with 4-year degree in planning or closely related field. Knowledge of zoning and subdivision/land development ordinances a plus. GIS and mapping experience a plus. Software experience preferred: will work with Corel Word Perfect Suite 9, MS Office 2000 Pro, Adobe Photoshop 5.0, Paint Shop Pro 6.2, IGrafx Designer 6.0/8.0, Adobe Pagemaker, Internet based research and ArcView GIS. AICP preferred. Community experience at the local, regional and county levels preferred. Salary negotiable based on experience. Hollidaysburg, PA.
Send resumes by e-mail to Richard C. Sutter, President at richardcsutteraicp@rcsanda.com.
Last updated January 02, 2001